The Good Humor Band v.2015!
After a two-year hiatus -- that's a break, not a need for an operation -- the Good Humor Band is returning for a 2015 Reunion Show. One show only, on Friday October 2 at the Canal Club in Richmond, Virginia, USA. More information at the Good Humor Band website.
And As Long As Joe Will Be Stateside....
Heartwood 40th Anniversary Reunion Show - Saturday October 10 at Cat's Cradle, Carrboro, NC. SOLD OUT. Sorry kids, you should have moved quicker on this one.
Joe McGlohon's Sax Shop - Wednesday October 14, A.J. McMurphy's, Greenville, NC. A fun and entertaining evening of solo saxophone music, stories, and B.S. -- we mean, information -- about Joe's 40-year history as a professional musician. It's all ages and perfect for musicians, students, friends,and the curious. Makes a great early Christmas present. Hanukkah too.
Forty Acres and a Saxophone
Joe joins Gov't Mule and co-special guests Eliott Randall and Bernie Marsden at Shepherd's Bush Empire in London, May 2015, where they segue from Ann Peebles "Breaking Up Somebody's Home" to a BB King tribute of "The Thrill Is Gone." If you're a die-hard Joe fan -- and why would you be reading this if you're not? -- fast forward to 7:50. And 11:58 if you're dying to hear his solo.
Pictures From an Exhibitionist
Recent comings and goings (and playing, of course) from the world of Joe McGlohon
Live from Crimea
Here's a video featuring Joe playing with the Jamal Thomas Band live from -- yes, you're reading this right -- the Koktebel Jazz Party in Crimea! (HINT: Head to 7:36 in the video)
Gov't Mule Version 2014
Joe sat in with Gov't Mule once again when they played Brooklyn Bowl in London on July 1st. Joining him and the band were Bernie Marsden from Whitesnake and Don Airey of Deep Purple fame. Watch all 22 minutes of it or cheat and skip ahead to 15:40 to see Joe's smokin' solo.
Here's another one of Joe with Gov't Mule, playing Devil
Joe Rocks with Past Pupils
Joe played at the first Past-Pupil Concert held on June 17th at The Bishop's Stortford High School where he teaches saxophone. Nine former pupils, among them four Musician of the Year title holders going back 20 years, returned for a fun but fantastic evening of outstanding music.
The McGlohon School of Music Expands
Starting next fall, Joe will not only be teaching sax at The Bishop's Stortford High School (sic) but also at Hinchingbrooke School. Look for him coming to a very British sounding school near you soon.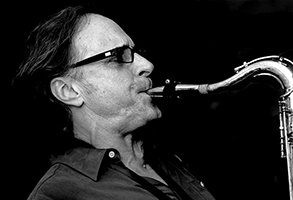 The Return of the Good Humor Band Version 2013
Joe will be reuniting with his old pals (and bandmates) THE GOOD HUMOR BAND for three big shows in November. Photos, videos and incriminating evidence will be posted here as they become available, but in the meantime you can get the full scoopage here.
And While He's In Richmond....
Joe will present a special one-time only Workshop/Performance he calls Joe McGlohon's Sax Shop. It's a fun and entertaining evening of solo saxophone music, stories, and information about the 40-year history of a professional musician. It's all ages and perfect for musicians, students, friends, the curious, the brave, and any fans of Joe McGlohon that aren't included in the previous categories. It's at In Your Ear recording studios in Richmond. COMPLETE INFORMATION HERE.
Joe Joins Gov't Mule
Joe sat in with Gov't Mule on July 4th at Under the Bridge in London. He's joined in this photo by Elliott Randall, Warren Haynes, and Reeves Gabriel. Read about it here. Or see it for yourself below!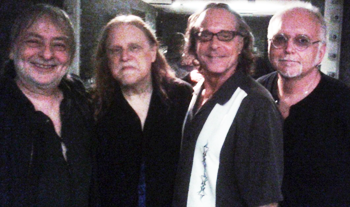 Get a Real Job...and he did!
In addition to playing with bands on the weekends like Captured, Joe went and got himself a Real Job. Starting in January he'll be teaching woodwinds at The Bishop's Stortford High School, an arts influenced school for kids who are really are into music and arts, where in his words, "I'll try to inspire students on what NOT to do to get to where I am today." Hey Teach! Can you teach us how to play "Charlie Brown"?
Everyone needs proteges
Joe imparts some of his 40-odd years of experience in the music business (and we do mean odd) to the TBSHS Modern Jazz Ensemble as he leads them in a performance of Ode to Billie Joe (arranged by Joe) at the Music Festival Finalé Concert 2013.
Want the latest News! Music! Gig Schedule! and More?
Check out Joe's Page at ReverbNation!
Onstage at Wembley Arena with Reba McEntire
Joe joined Reba McEntire on stage in London for the the International Festival of Country Music at Wembley Arena. Reba headlined the festival, which started in 1969 but hasn't been put on in 21 years.The show got rave reviews and you can check out a couple of Joe's solos below.
Gonna Take, A Trans-Atlantic Journey....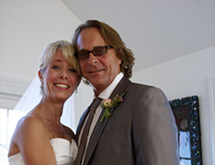 The rumors are true, Joe moved to London in October to marry the lovely and charming Ms. Helen Rochelle and embark on a new chapter in his life.
He immediately came back to the U.S. to play on the Legendary Blues Cruise with Jim Thackery. Rumors abound that a live CD from the cruise might be released in 2012! Check out a video of Joe playing with them HERE.
Since getting back to London, Joe's been in the studio with Elliott Randall, an old friend who lives in London and was the best man at his wedding, recording Elliot's latest CD project.
Goin' to the Other Chapel
On September 11, 2011, Joe proudly gave his daughter Meredith away at her wedding. Meredith's kicking butt at her salon, Red Salon Organics, in Richmond, Virginia.
Joe is in the house. The house band, that is.
On February 5 the Trinity Broadcasting Network (TBN) will begin airing the new show, Love Marriage & Stinking Thinking featuring The Reverend Jimmie Bratcher and Sherri Bratcher...and really featuring Smokin' Joe McGlohon playing in the house band. Okay, along with Dave Autry on drums, Denny Autry on keyboards, and Landy Ewing on bass. Thirteen shows are in the can with more to come. Hopefully lots more!
The McGlohon CD is (kinda) here!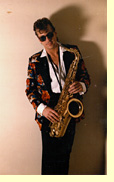 Joe's finished recording his first solo CD. It's twue! And while you're waiting for the actual, real life CD to be pressed and official, you can find out more here. As he puts it, "It's a combination of originals, some favorite R& B stuff I've always wanted to cut, and some humor. I want to document the various styles and genres of music I love to play." Songs include Healin' Groove, Ode to Billy Joe, and a version of Papa Was a Rolling Stone that features guest vocals by T. Graham Brown, Delbert McClinton, Steve Bassett, and Jimmy Hall. The CD was produced by Joe and Steve Bassett, recorded at Miss Laura's Kitchen and Silvertone Studios, and mixed and mastered by the illustrious James Pennebaker. Stay tuned for more details!

Recent Recordings
Joe's been recording a whole bunch. Let's see....he played on Bonnie Bramblett's new album which is due out any time now, laid down some sax tracks on a really cool record by The Reverend Jimmie Bratcher, and will be heading to Muscle Schoals in January to record the new Nappy Brown CD for Blind Pig Records.
Speaking of Stairway to Gilligan's Island
A video has been unearthed of Joe singing Stairway to Gilligan's Island at an unidentified Good Humor Band reunion. Check it out here at your own risk. (Thanks - we think - to Hunter Halder for this.)
Joe's a grandpa!
It's true. For proof, check out the proud grandpapa here.
Joe's a part of the History of the Saxophone
John Laughter has finished his 276-page book, The History of Top 40 Saxophone Solos-1955-1998 and is looking for a publisher. In the meantime you can get a copy of it on CD, including text and music. One of the featured artists on the music CD is none other than Joe McGlohon, playing a song he co-wrote with Steve Bassett, "Reggae Gone Shuffle." To find out more and get a copy of the Cd-book, go here.
Sharp cuts
- Listen to recordings Joe recently completed with Bobby King and two hot solos on songs written by Gene Rabbai and Marcy McGuire.
- Check out Joe on The Steve Schuffert Band's new album, Love, Sex & Freedom, on Fortune Records.

More news as it develops!